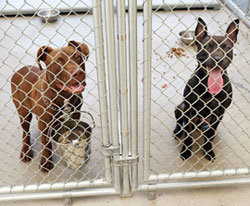 We're happy to present this article from our partner site Yahoo! Shine:
If you've got a pet, chances are you'll need a kennel at some point. Lots of pet owners go with in-home pet-setting services, or take their pets along with them on out-of-town trips – but Tabby probably isn't welcome at a work retreat in Tahoe, and let's face it, sometimes you want a vacation from the pets themselves.
But you also want the boarding facility you pick out to be safe and comfortable for you pet. Lynn Gensamer, the executive director of the Humane Society for Greater Savannah (Georgia), listed a few key ways to make sure you're getting the best kennel experience for your pet in a recent article.
Related: Keep Your Doggie Door Secure
Her first recommendation: research the kennel beforehand. A lot of kennels have websites with virtual tours, or even cage-cams where you can look in on what's going on; you can also read up on customer reviews, or check Yelp to see if your neighborhood kennel is highly rated.
You can also learn a lot from an in-person visit, which any kennel of repute should be happy to accommodate. Take a tour; make some notes. Gensamer says that the whole place – "kennels, play yards, dog runs and rooms – should be clean and odor-free." Check both dog and cat areas, and talk to staff, especially the ones who'll be interacting with your pet. Mention any special needs, and make sure the kennel is equipped to deal with dietary issues, special beds for arthritic pets, or whatever specific extras your pet might require. Get a sense of how Fido or Fluffy will be spending the days – do they get to play outside and/or with other guests?
Y! Science: Huge Burmese python sets two records
Gensamer also suggests word-of-mouth research – asking friends and neighbors where they send their pets (or where they won't send them again). Some kennels, like some vets, just do better with dogs than cats, or with "behaviorally challenged" animals than with seniors; fellow customers are the best source for that kind of info.