Sure, North loves to play, but he seems to share my fear of large objects flying toward the face. While we've been content to sit on the sidelines, I'm surprised how well he's learning to be a real disc dog! I've gathered up my best practices to send you on your sporty way, too.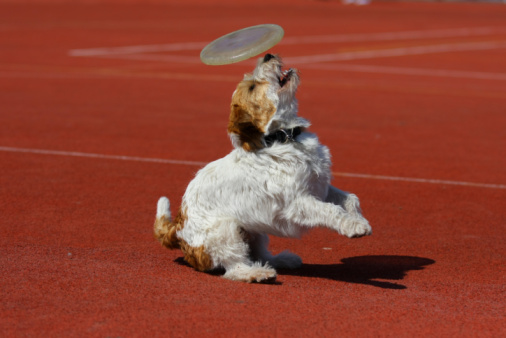 Know fetch backwards and forwards. Not literally, but make sure your pet has mastered fetch or else your game will be very short-lived. Start by just teaching your pets to "go get" and "give back" before focusing on catching if he's a beginner at this basic trick.
Choose a disc that matches his size. Most little pups don't want to see a huge platter flying at their heads and will have trouble catching it midair. Although many dogs will use traditional Frisbees, discs created for dogs can be softer and easier for them to catch.
Get your pet interested in the disc. Introduce the disc as a new, fun toy. It can help to practice outside to save your lamps, and make it easier for doggies to pick up the discs off soft ground over hardwood floors.
Find out how to start the actual game and read more