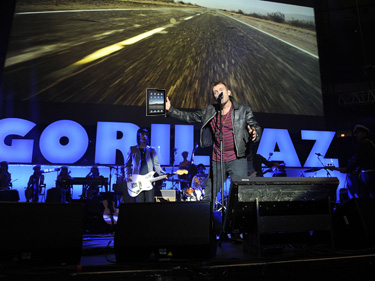 I'm a big fan of Gorillaz, especially since I feel like we'd have a lot to talk about if I ever met the band. I mean, we're both crazy about music (obviously), and we both enjoy geeky things like holograms, oh, and iPads. iPads, you ask? Yes, iPads. See, Gorillaz frontman Damon Albarn recently announced that the band's next album (which will be out by year's end) has been recorded entirely on an iPad.
In a recent interview, Damon told NME magazine how he hopes to be the first person to record an album on the Apple tablet. He says:
I fell in love with my iPad as soon as I got it, so I've made a completely different kind of record . . . It's ironic, being the sort of technophobe and Luddite that I am.
It seems the iPad can be a jack of all trades of sorts when it comes to art and is being used in a number of ways that you and I wouldn't have thought of. What other kind of magic can you create on the iPad? Find out after the break.