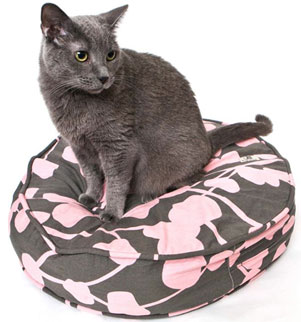 I'm a huge fan of the eco-tastic stuff sacks from Molly Mutt: Instead of shelling out for a cushion, especially with pets prone to potty accidents, these are filled with old towels, clothing, or whatever to take the place of the pillow. In addition to the new round designs (that I introduced in October), the company just launched Molly Meow for your feline friends!
Whether you fancy round or square, each cat bed comes with a matching catnip bag that can be stuffed with the appealing green treat and placed inside the duvet, too.
Never fear, doggie owners, if you like this new pattern — La Vie En Rose — it's available for the canine set as well.