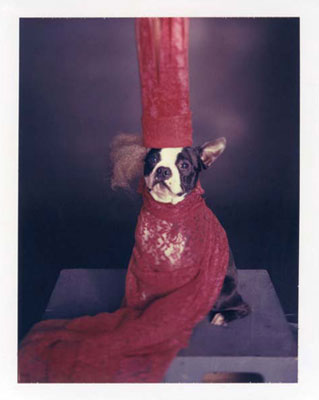 Since we currently have a
costume challenge in our community
, what better time to gather picture taking tips than before the big day? Photographer
Jesse Freidin
created the wildly popular
Doggie Gaga project
earlier this year — that's his cute Boston Terrier, Pancake — and he offered tips on both costumes choices and creation in addition to photography ideas to share with you.
PetSugar: Halloween costumes already have so much going on, how do I create a setting that limits visual distraction?
Jesse Freidin:
If you're going to put your dog in a costume and create a fun photograph showing off the costume and the dog, what you want is for the dog and the costume to really stand out. That's the focus. You want to show off the costume and show off your dog being beautiful so there's not always a need to make your background really busy. What you could do is work with a simple background whether it's putting your dog outside near a wall that's really simple. Then be really thoughtful and have a couple props, maybe there's a pumpkin or maybe there's some leaves. As long as your eyes are really drawn to the focus, which is the dog, that will make your hard work, stand out.
PS: What if I pass by someone else's cute dog on the street? How do I get a good shot?
JF: A good thing to do is get on their level and, before you stick a camera in their face because you're a new person and it's a camera and that can be weird, just let the dogs sniff you and get used to you for a second. Make sure you know their name and call it and hopefully they will look at you. It's always an overstimulating environment to have lots of dogs, lots of people and costumes so keeping everything as calm and simple as possible is the way to get some really great photos.
While Pancake is posing as part of the Doggie Gaga project here, learn what Jesse's cute pup will be for Halloween this year, how to pick out a photo-worthy costume for your pet's coloring, and get an amazing base for any DIY costume when you read more