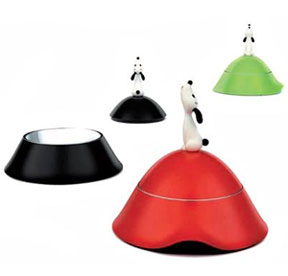 Baroooo, Lula wants her supper! From the designer of the lovely
Lupita and Tigrito
bowls, comes this style for the smaller pets. As part of the "Mountain of Dogs" project, this pooch is howling up at a moon from a mountain?
According to the designer
:
The mountaintop has the double task of protecting the food and preventing "lulà" from eating all day. but quite apart from the functional features, I wanted above all to give life to a landscape, to the dream of this mountain in the figurative tradition that I identify with so much.
Hmm, perhaps the dog is howling because she can't get at the food! Kidding, even though it's form over function for those all-day-snackers, this $80 style sure is sleek.