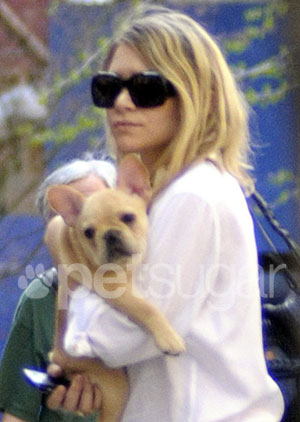 Stop everything for this
smooshy
high alert and check out the fawn-colored cutie getting a cuddle and a carry!
Ashley Olsen
was spotted toting this French Bulldog from her NYC apartment on Wednesday — the pup looks too little to meet other furry friends so she's showing a responsible side by not letting the babe walk on the ground and risk diseases before
all those puppy shots
are completed.
No word on the lil bundle's name yet, and I can't even tell if it's a girl or a boy (even from these pictures) but I'm happy to add her to the ever-growing list of celebrities who choose this breed as a pet, and even ones who can't resist a smooshy cuddle. Peep more pics of Ashley's addition and here's hoping we learn a name soon!