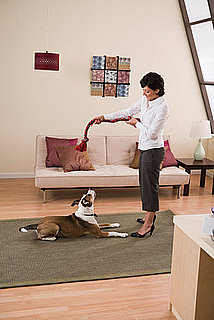 While some dogs greet every human as a new best friend, others are more particular. Several factors go into a pup's choosing process so if you see a dog hesitating to play with any new two-legged pals, ask yourself the following questions:
Has he met this person before? A brand-new face can require some adjustment — see if the dog shows any interest in the human before playing begins to gauge how easily the action will start.
Does he like this game? If someone is holding out a pet's favorite toy, or if your canine can't get enough of catch, chances are he'll be down to play equally with anyone in sight!
Get the rest when you read more