This Chow Chow looks ready to chow down or, at the very least, enjoys accompanying an owner for a coffee and snack at a sidewalk café. It's the perfect way to get some yums, and for a dog to enjoy the fresh air.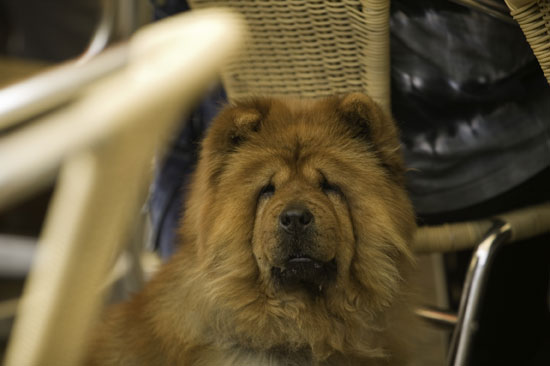 A couple tips to keep in mind when heading out:
Before You Leave: Although many pet-friendly establishments offer to-go dishes for a pet's water, it can't hurt to bring along your own portable bowls. Also, make sure I've got a non-Flexi leash and a bag (if your pet's small) to be able to secure him. I like to loop the leash around the leg of my chair 'cause I know my weight will keep him down. Remember to pack some to-go treats to prevent the temptation to give your dog any inappropriate human food.
Before You Enter: Check with a hostess or server before you sit down! Just because it's outside, doesn't mean it's automatically OK. Be mindful of other diners — if it's a crowded patio, it may be better to go elsewhere.
Time to be seated! Learn what to do to help ensure a pleasant meal when you read more